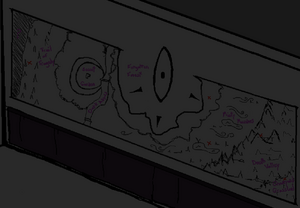 The Land of Murder and Moonlight
, or LOMAM, is the realm of
Derrick Willford
, the Prince of Fear, and
Lucia Morris
, the Maid of Dusk. Spread throughout the land are many outposts, which can be used to travel around quicker. The outposts also generally have a guard in them, who will answer questions about LOMAM if their trials can be passed.
There are seven regions in LOMAM.
Trail of Tragedy
Edit
- barren rocky land with occasional stalagmites, no man's land.
- Contains an outpost with a Transition Gate to LOHAM.
Secret Garden
Edit
- bathes in moonlight. Small area of land that is the comforting part of LOMAM.
- Derrick lives here.
Dark Abyss
Edit
- Dark ravine with treasure scattered about, home to many dark creatures.
Forgotten Forest
Edit
- tall trees and scary monsters, dark, thick mist causes forgetfulness.
- Contains an outpost at its outskirts.
- Lucia lives here.
Misty Marshes
Edit
- Contains thick mist impairing vision, mud pits and docile gray giants.
- Contains an outpost near its center.
Death Valley
Edit
- huge peaks with risky treading room, a slip may be fatal.
- Contains an outpost near its entrance from Misty Marshes in a cave with a Transition Gate to LOCAD.
Graveyard Grasslands
Edit
- overgrown grass with thick mist at ankle level, unknown region with a great monstrosity.
Each area is very large. Some will have outposts to rest in and to serve as fast travel points.
Community content is available under
CC-BY-SA
unless otherwise noted.